i3 Reading Recovery
Our Reading Recovery Partners
Our External Evaluator
Links

An i3 grant applicant must first qualify to train in the Reading Recovery professional development program. This process is separate from the i3 grant application. A teacher enrolled in Reading Recovery training has met qualifications as outlined in the Standards and Guidelines of Reading Recovery in the United States (6th Ed.), published at the Reading Recovery Council of North America, and the designated Reading Recovery university training center's selection policies.
Upon acceptance into a certified Reading Recovery professional development program, the teacher works with her or his teacher leader or university trainer in order to apply to the i3 Reading Recovery: Scaling Up What Works grant. If the applicant's building meets grant criteria, that teacher-in-training will qualify for i3 professional development funds and other grant benefits as outlined in the designated i3 partner university's Memorandum of Agreement. (See i3 Reading Recovery Fast Fact Sheet.)

Online Application
Teacher Leaders or UTC Trainers please click here for online i3 grant application for your accepted teachers-in training.
UTC Trainer Login
UTC Trainers click here to access the UTC Partner page.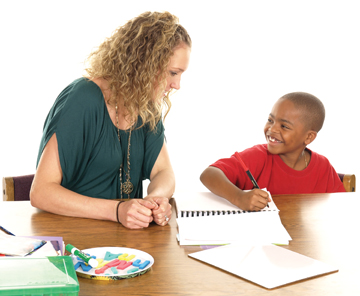 One Child's Progress with an i3-Funded Teacher
Benefits of Reading Recovery for the Entire School
Value of the Reading Recovery Professional Development from an i3 Building Administrator
Columbus, OH | Feb 1-4, 2014
About the Conference:
Teachers, reading specialists, school administrators, literacy coaches, pre-service educators and others who are interested in meeting the diverse needs of all students are invited to attend the National Reading Recovery & K-6 Classroom Literacy Conference to be held in Columbus, OH, February 1-4, 2014 at the Columbus Convention Center.
115 sessions, led by nationally respected literacy experts, focus on all aspects of K-6 literacy including; comprehension, struggling readers, writing, building on students' strengths, Common Core State Standards, RTI, non-fiction, ELL, assessments, literacy coaching, Reading Recovery, children's literature, administration, and much more. The Conference also includes Keynote speakers: Mary Ann Doyle, Sharon Taberski, and Brian Pinkney; Featured Speakers: Lucy Calkins, Nell Duke, and Tanny McGregor; and Preconference Institute Speakers: Gay Su Pinnell & Irene Fountas and Matt Glover.
Conference Location:
Greater Columbus Convention Center
400 N. High St.
Columbus, OH 43215
Contact:
Reading Recovery Council of North America
500 W. Wilson Bridge Road
Suite 250
Worthington, OH, 43085;
e-mail: conferenceinfo@readingrecovery.org.
More information can be found on the RRCNA website at: www.rrcna.org/conferences.
About the Reading Recovery Council of North America (RRCNA): The Reading Recovery Council of North America, Inc. (www.readingrecovery.org) is a not-for-profit association. Our members include Reading Recovery teachers, school administrators, university professors, classroom teachers, and others who are interested in early literacy education.