i3 Reading Recovery
614-292-3603 |
Our Reading Recovery Partners
Clemson University
Emporia State University
Georgia State University
Lesley University
National-Louis University
New York University
Oakland University
Saint Mary's College of California
San Diego State University
Shippensburg University
Texas Woman's University
The Ohio State University
University of Arkansas
University of Connecticut
University of Kentucky
University of Maine
University of North Carolina at Wilmington
University of Northern Iowa
University of South Dakota
Our External Evaluator
University of Pennsylvania
Links
i3 Fund
Reading Recovery Council of
North America

An i3 grant applicant must first qualify to train in the Reading Recovery professional development program. This process is separate from the EBAC grant application. A teacher enrolled in Reading Recovery training has met qualifications as outlined in the Standards and Guidelines of Reading Recovery in the United States (6th Ed.), published at the Reading Recovery Council of North America, and the designated Reading Recovery university training center's selection policies.
Upon acceptance into a certified Reading Recovery professional development program, the teacher works with her or his teacher leader or university trainer in order to apply to the i3 Reading Recovery: Scaling Up What Works grant. If the applicant's building meets grant criteria, that teacher-in-training will qualify for i3 professional development funds and other grant benefits as outlined in the designated i3 partner university's Memorandum of Agreement. (See i3 Reading Recovery Fast Fact Sheet.)


Online Application
Teacher Leaders or UTC Trainers please click here for online i3 grant application for your accepted teachers-in training.
UTC Trainer Login
UTC Trainers click here to access the UTC Partner page.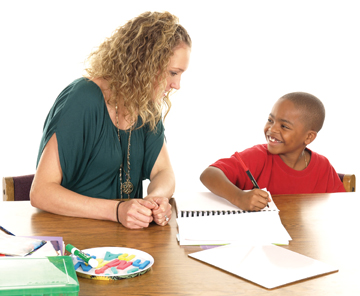 View Videos from Reading Recovery Works
One Child's Progress with an i3-Funded Teacher
Benefits of Reading Recovery for the Entire School
Value of the Reading Recovery Professional Development from an i3 Building Administrator